October 29, 2018
CMS celebrated the stable premiums for 2019 and credited Republican efforts for the average premium actually going down for the first time since the ACA took effect. However, KFF suggested that premiums went down despite those efforts.
KFF said in a separate analysis from earlier this month that premiums will be relatively flat or even lower in parts of the country next year because insurers overcharged premiums in previous years. 
Congress repealed the individual mandate penalty for 2019 as part of its 2017 tax bill. The Trump administration, meanwhile, offered new rules that allow for more short-term health plans and AHPs. Critics charge that these changes will cause people to leave the ACA marketplace.
They'll go to lower-cost plans or drop insurance. In turn, ACA exchanges will have a higher percentage of sicker people, which will likely cause higher premiums in the marketplace.
In addition, President Trump stopped paying cost-sharing reduction (CSR) payments to insurers in the exchanges last year. Trump argued that it's the responsibility of Congress to make those payments. Congress has discussed taking over payments, but those efforts have stalled.
The Congressional Budget Office estimated that stopping CSR payments is increasing silver premiums by an average of 10%. So, combined, KFF said silver premiums will be 16% higher than if none of those actions took place.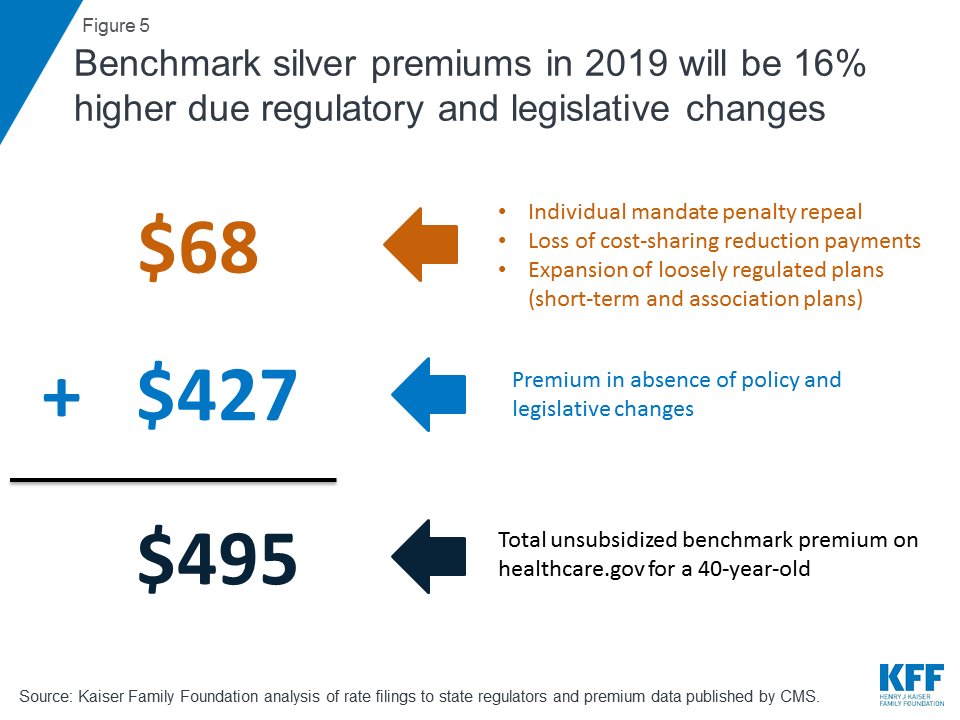 While subsidized plans will pay an average of 6% more than if there weren't changes, KFF said exchange plans that are subsidized for people with incomes 400% of federal poverty limit or less won't see much of a change in premiums.
Those members already pay a sliding-scale premium based mostly on income.
Their premiums aren't affected by the individual mandate penalty repeal or expanding short-term plans, KFF said.
The Trump administration has made changes to healthcare policy over the past two years. More changes could happen depending on what happens with a court case in Texas and the midterm elections.
The Department of Justice is arguing in court that the ACA, including its pre-existing conditions provision, is unconstitutional. If the court throws out the ACA, Congress would need to scramble if it wants to create pre-existing condition protections. Republicans offered their own pre-existing condition bill earlier this year, which critics said would not offer enough consumer protections. Avalere recently reported that more than 100 million Americanswill lose insurance if the pre-existing condition protections are wiped out. 
Meanwhile, the midterm elections could prove the end of the ACA if Republicans keep control of both houses of Congress. Or it could become further entrenched if Democrats take over at least one house. If Republicans retain control of the House and pick up seats in the Senate, the GOP will likely take another whack at the ACA next year.